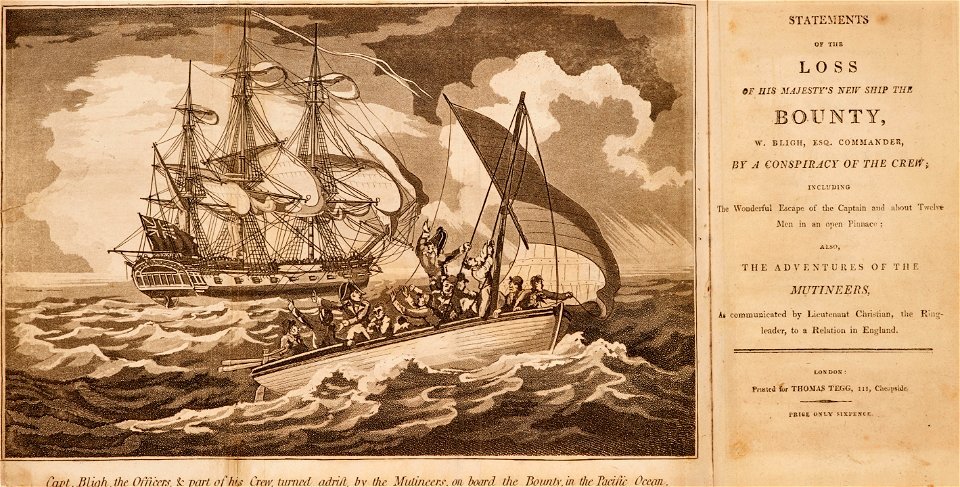 In our last instalment of the most famous ships in history, we looked at the British ship HMS Warspite, a ship that was used in two world wars.
Today, we'll be looking at the HMS Bounty, a Royal Navy ship that's famous for the mutiny that took place in 1789.
Beginnings and Initial Mission
The Bounty was built in 1784, in a shipyard in East Yorkshire. Three years after the vessel had been constructed, the Royal Navy purchased for just under £2000, to carry out a botanical mission. This was to be a single mission, described more as an experiment, which involved acquiring breadfruit plants from Tahiti. The mission was then to transport these plants to the West Indies, where they would hopefully grow and become a cheap supply of food for the slaves there. The Bounty and its crew were captained by William Bligh, a mere lieutenant who, by virtue of controlling the ship, was immediately promoted to Captain.
The Ship Sets Sail
The Bounty left England in December 1787, and eventually reached Tahiti in 1788, after ten long months at sea. After spending a significant amount of time in Tahiti – around five months – in which they took advantage of the beautiful surroundings, they eventually set sail on the second part of their journey. This time, they were heading towards the West Indies, with their cargo full of breadfruit plants.
The Mutiny
Around three weeks after the ship had set sail, disaster struck aboard the Bounty. Tensions had been building for a while, with several of the men believing that they were not being treated fairly. They accused Bligh of being oppressive and controlling and accused him of making them suffer inhuman treatment.
Fletcher Christian, the master's mate of the ship, claimed that he routinely felt like he was being humiliated by Bligh and that he realised he needed to do something about it.
On the 28th April 1789, he, along with eighteen of his followers, formed a mutiny against Bligh and his loyal seamen. They seized the ship and forced Bligh (and many other sailors) onto a 23-foot open boat. They left them in the open sea!
Everyone expected Bligh and his faithful crew to die, but amazingly, two months and 3,600 miles later, they arrived in Timor, East Indies. From here, they were eventually able to return to England and report the mutiny.
Mutineers Fate
HMS Bounty was then taken to the island of Tubuai, where Fletcher and his men attempted to establish themselves. However, after several months of conflict with the locals, they made the decision to return to Tahiti, despite the chance that they might be captured!
The Navy, who were very eager to find and apprehend the mutineers, set sail aboard the HMS Pandora, intent on capturing them. Within two weeks, 14 men were arrested.
They were taken back to England, where three were hanged!
Fletcher, and those remaining took the Bounty to the Pitcairn Island in 1790, where they eventually burnt the ship to avoid capture. This area was later given the name Bounty Bay.
The remains of the ship were eventually discovered by Luis Marden in 1957 after he spent several days diving beforehand. Parts of the ship can still be viewed at Bounty Bay.
The Bounty in Hollywood
Several films have been made, depicting various versions of the mutiny that took place on the Bounty. This includes Mutiny on the Bounty, the 1962 historical drama starring Marlon Brando as Christian, and Trevor Howard as the ill-fated Blight. Other films were produced in 1935 and 1984.
All of us here at Offshore Supply think that the tale of HMS Bounty is a fascinating piece of naval history. As boat chandlers, we pride ourselves on being one of the leaders in providing supplies to the industry. If you're seeking any information about any of our products, or you have any questions, please contact us on 0845 521 1939, and a member of our friendly team will be happy to help.